The Shagya-Arabian is its own separate breed of Arabian-bred horse developed over 200 years ago on the military stud farms of the Austro-Hungarian monarchy such as Radautz in Romania and Bábolna in Hungary.
The official name "Shagya" was not adopted until 1978 when the World Arabian Horse Organization (WAHO) officially recognized the Shagya as a separate Arabian breed and accepted the International Shagya-Araber Gesellschaft ("ISG") as a member.
The ISG is an international body that supports the breeding and preservation of the Shagya breed. The breed's name "Shagya" is in honor of one of the most influential horses in the creation of the breed, the stallion "Shagya or. ar.", imported from Syria to Bábolna in 1836.
Records indicate that he was a remarkably strong and tall stallion, standing shy of 16 hands, of the Koheil Siglavy strain.
Other foundation stallions were the original Arabians Gazlan-Gazal, Koheilan, Mersuch, Dahoman, Siglavy, Siglavy-Bagdady, O'Bajan, Amurath and Kemir. Shagya-Arabian lines also include El Sbaa and Nedjari.
Purebred Shagya-Arabians must have pedigrees that can be traced in both their sire and dam's sides to the studbooks of Radautz (Romania) and Bábolna (Hungary) and to purebred Arabians, and must have been bred according to the system of Bábolna. The State Studs of Europe kept strict breeding principles and records. They used carefully planned line breeding, coupled with judicious and regular out-crossing to purebred desert Arabian horses, and maintained a rigorous set of performance tests for mares and stallions before they could be used for breeding.
Shagya-Arabian Studbooks have been closed to all breeds except for Purebred Arabian for over a century.
Although today one often refers to them as "Shagyas" the correct breed name is "Shagya-Arabians" and should be considered due to the various strains within the breed (i.e. Shagya, Gazal, O'Bajan…).
This also helps to differentiate between Shagya-Arabians and partbred horses (Shagya-Arabian crossed with any breed other than purebred Arabian).
Current ISG guidelines require that there are no more than 9 purebred Arabians in the fourth generation of a purebred Shagya (the "9/16 Rule").
The official brand for Shagya is a sun circling the abbreviation "Sh".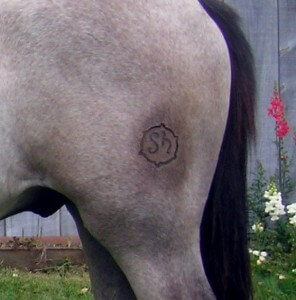 The breeding goal for the purebred Shagya-Arabian is to produce hardy, sound and versatile horses with Arabian beauty and friendly, people-orientated temperaments, of Arabian type but with more bone and mass than the pureblood Arabians.
Shagya-Arabians should have the Arabian qualities of toughness, refinement, and endurance along with a dependable temperament and taller height, larger frame and bigger bone. For a horse to be "officially" considered a "Shagya-Arabian" it must registered with an ISG member registry.
The rules and regulations for Shagya-Arabian breeding have been established by the ISG and are listed in the RZBO Guidelines. The RZBO allows for purebred Arabian mares and stallions to be approved for Shagya-Arabian breeding upon their inspections and approval for breeding.
Additionally, the RZBO requires that all stallions who are Approved for Shagya-Arabian Breeding, Shagya-Arabians or Arabians, must meet performance requirements to keep their breeding licenses.
Once approved, Arabians do not become "Shagya-Arabians", but their eligible foals can be registered as Shagya-Arabians in the applicable Shagya-Arabian Studbook or Appendix.
One can review the rules and other official guidelines for Shagya-Arabian breeding on the ISG's website.
The Shagya-Arabian's versatility makes it an ideal horse for a wide range of disciplines, from jumping, dressage, eventing and driving, to the ever increasingly popular distance riding sports of endurance and competitive trail riding, as well as for western reining, gymkhana, cowboy mounted shooting and archery, foxhunting, vaulting and obstacle/trail classes.
The ideal Shagya-Arabian is physically and mentally capable of being top level competition horses and yet also be wonderful pleasure and family horses.